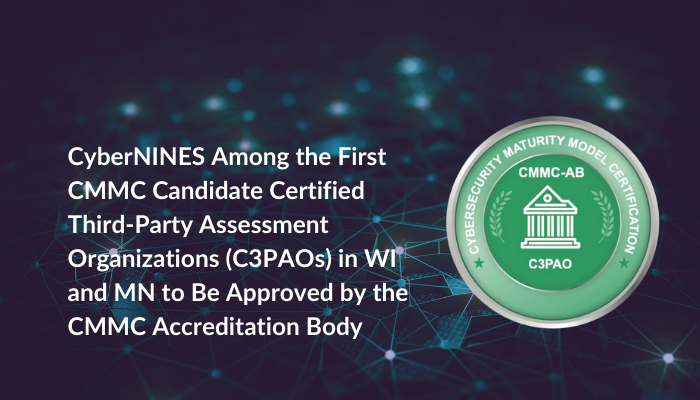 A Leading Cybersecurity Company in Wisconsin and Minnesota to be Listed on the CMMC-AB Marketplace
MADISON, WIS. (April 23, 2021) — CyberNINES, a leading cybersecurity provider of high-value and affordable CMMC & NIST SP 800-171 compliance services to small and medium-sized businesses in the Upper Midwest, has been approved as a Cybersecurity Maturity Model Certification (CMMC) Candidate Certified Third-Party Assessment Organization (C3PAO) by the CMMC Accreditation Body (CMMC-AB). CyberNINES is one of the first organizations in Wisconsin and Minnesota to be listed on the CMMC-AB Marketplace as a Candidate C3PAO pending an assessment by the Department of Defense (DoD). There are currently 153 approved Candidate C3PAO organizations listed on the CMMC-AB Marketplace. Prior to receiving C3PAO status, CyberNINES was approved as a CMMC Registered Provider Organization (RPO).
CMMC-AB is a non-profit, independent organization providing accreditation services on behalf of the DoD for CMMC Certified Third-Party Assessment Organizations (C3PAOs) and individual assessors. The CMMC framework was created by the United States Department of Defense to protect against ongoing theft of government-sensitive information by applying mandatory cybersecurity practices across the Defense Industrial Base (DIB). After October 1, 2025, all new contracts will be required to meet the new CMMC framework in order to receive DoD awards. CMMC C3PAOs are the only agencies authorized to conduct certified CMMC assessments of DoD contractors. Before CyberNINES will be able to begin performing assessments, CyberNINES will need to pass a CMMC ML3 Assessment conducted by the Defense Contract Management Agency (DCMA).
What does it mean to you?
With knowledge gained as a Candidate C3PAO and an RPO, our clients benefit from qualified guidance and support on assessing, documenting, and remediating any cybersecurity gaps and thus preparing clients for CMMC ML1 and ML3 certifications.
At CyberNINES we are committed to provide cybersecurity expertise across DFARs regulations, NIST SP 800-171 and CMMC for small and medium-sized businesses and manufacturers. It is important that DoD suppliers start their journey towards CMMC compliance today. Our cost-effective turnkey program called "Compliance Without Complexity™" is designed to prepare existing and prospective DoD suppliers gain and win more DoD contracts for years to come.
About CyberNINES
CyberNINES is a Service-Disabled Veteran-Owned Small Business (SDVOSB) focused on cybersecurity services that provides high value and affordable CMMC & NIST SP 800-171 assessments, audits and compliance management to small and medium-size business within the DOD Supply Chain. Our solutions include Government Cloud solutions for Controlled Unclassified Information (ITAR and 600 Series) to meet DFAR 252.204-7012, 7019 and 7020 regulations and virtual CISO services to limit the cybersecurity risk posture of suppliers and primes.
Looking for help with your organization's cybersecurity assessment or meeting compliance with NIST SP 800-171 or CMMC? Send us an email to inquiry@cybernines.com or fill out the form below to schedule your free consultation with one of our experts.