CyberNINES CEO to address U.S. House of Representatives Committee

Rylee Wedekind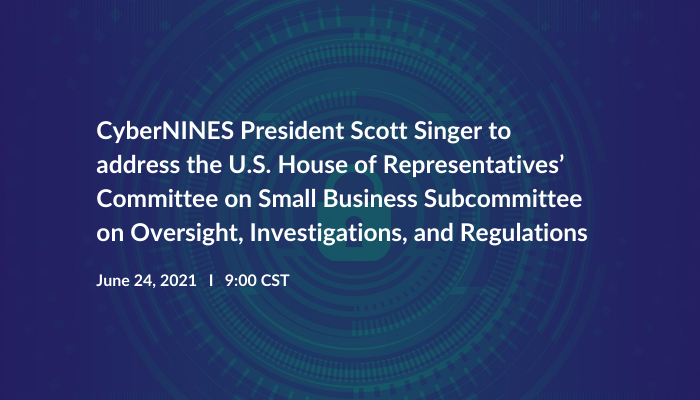 MADISON, WIS. (June 21, 2021) — On Thursday, June 24, 2021, Scott Singer will testify before the subcommittee on the Cybersecurity Maturity Model Certification (CMMC) framework, cost-effective solutions for small businesses to fully comply with CMMC and the critical role small business plays within the Defense Industrial Base (DIB).
CyberNINES was started in 2020 with the direct goal of helping businesses within the DIB obtain NIST SP 800-171 and CMMC compliance. CyberNINES has embraced the CMMC ecosystem and is both a Registered Provider Organization (RPO) and a Candidate Certified Third-Party Assessment Organization (C3PAO) pending an assessment by the Department of Defense (DoD). For additional information on CMMC – (https://www.acq.osd.mil/cmmc/faq.html)
The CMMC framework was developed to protect and secure Controlled Unclassified Information (CUI) within the DIB. Implementing a full CMMC framework will cost many thousands of dollars for many small businesses that already run on small margins.
There are more than 300,000 U.S. businesses within the DIB. A majority of them are small businesses. They are considered the backbone and a vital component of national security.
Singer will provide several recommendations to the subcommittee on ways that the CMMC framework can be made attainable to small business.
To watch live at 9:00 am (CST): CMMC Implementation: What It Means for Small Businesses | Small Business Committee (house.gov).
The testimony will be recorded and available for viewing (https://youtu.be/MW434M6w_Cg).