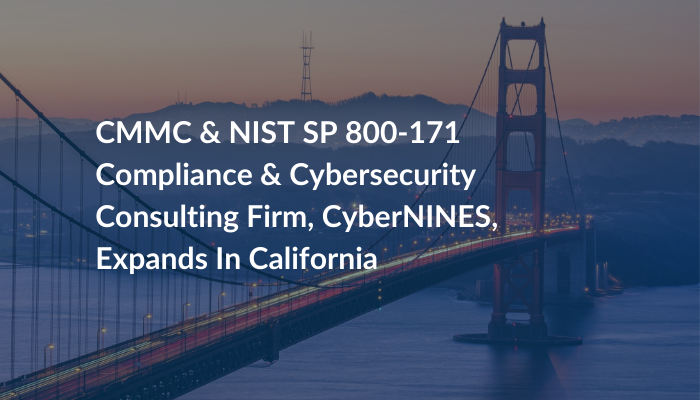 CMMC & NIST SP 800-171 Compliance & Cybersecurity Consulting Firm, CyberNINES, Expands in California
MADISON, WIS. (July 30, 2021) — CyberNINES, a cybersecurity consulting company providing high-value and affordable CMMC & NIST SP 800-171 compliance services for small and medium-sized businesses in the Upper Midwest, has recently expanded its presence in California. Scott Singer, President of CyberNINES, Todd Streicher, Vice President of Business Development, and Nick Alaga, Director of Business Development in Western Region, met this past month with businesses and partners in San Francisco, Los Angeles, and San Diego to discuss the strategic development in the West region.
"Many small and mid-size manufacturers doing business with the Department of Defense (DoD) are not aware of the new cybersecurity certification requirements that were released last November. As a result, they are at risk of losing DoD contracts," says Scott Singer, President of CyberNINES. "Our California expansion will allow us to have boots on the ground to help more small businesses comply with NIST SP 800-171 and the Cybersecurity Maturity Model Certification (CMMC) frameworks, critical for the security of our nation."
CyberNINES currently has offices in Wisconsin, Minnesota, and now California with offices in the Bay Area, Los Angeles, and San Diego. Its mission is to help small and medium-sized manufacturers within the Defense Industrial Base (DIB) who transit, and store Controlled Unclassified Information (CUI) meet federal mandatory regulations in the most efficient and cost-effective way.
Looking for help with your organization's cybersecurity assessment or meeting compliance with NIST SP 800-171 or CMMC? Please send your message to inquiry@cybernines.com to schedule your free consultation today.
ABOUT CYBERNINES
CyberNINES is a Service-Disabled Veteran-Owned Small Business (SDVOSB) focused on cybersecurity services that provide high value and affordable CMMC & NIST SP 800-171 assessments, audits, and compliance management to small and medium-size businesses within the DOD Supply Chain. Our solutions include Government Cloud solutions for Controlled Unclassified Information (ITAR and 600 Series) to meet DFAR 252.204-7012, 7019, and 7020 regulations and virtual CISO services to limit the cybersecurity risk posture of suppliers and primes. More information can be found at www.cybernines.com.