Protect Democracy: Help Secure WisconsinEye's Future!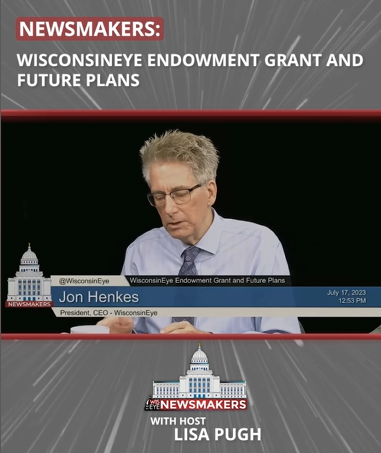 WisconsinEye (WisEye) safeguards our democracy.
A nonprofit [501(c)3] organization dedicated to providing transparency in state government, WisEye has the chance to secure a generous state grant to help build an endowment that will ensure its long-term sustainability and impact. To do so, it must raise $10 million in matching funds from concerned citizens like you. Anyone who values government accountability—Wisconsin resident or not—has the opportunity to support this critical effort, ensuring that WisEye continues to serve as a trusted source of unbiased information for generations to come.
By contributing to this endowment, you help safeguard the very essence of our democratic values.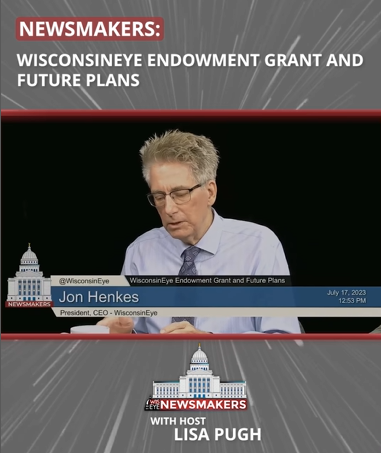 WisEye is often compared to C-SPAN in that it provides comprehensive live coverage of legislative hearings and promotes transparency, accountability, and civic engagement, yet it stands alone in the U.S. as the only state-focused public affairs group. It serves as a vital bridge between the public and state government, offering unbiased information that empowers citizens to be well-informed participants in the democratic process. CyberNINES endorses this mission so wholeheartedly that our president, Todd Streicher, is a member of the WisEye board
In this spirit, CyberNINES is asking for your help in supporting WisEye's mission. Please consider lending your efforts to this vital cause. There are several ways you can help:
Donate to the WisEye endowment fund. Your generosity, whatever the amount, will be instrumental in reaching our $10 million goal.
Spread the word about this opportunity with your friends, family, and colleagues who share your commitment to transparency and civic engagement. Encourage them to support this cause and be part of positive change.
Share your creative ideas for fundraising Initiatives with WisEye or a member of the CyberNINES team. WisEye doesn't have grateful patients, alumni, or other beneficiaries like many nonprofits, so it needs other ways to reach out. Your innovative suggestions can help generate the necessary funds and build a broader community of support.
Be an advocate for WisEye's mission and its importance within our state. By spreading awareness about WisEye's work, you can help garner support from various stakeholders and potential donors.
Any support you can provide will make a meaningful difference. By working together, we the people can strengthen the foundation of WisEye, allowing it to expand its reach, enhance its technological capabilities, and provide even greater coverage of state proceedings, thereby fostering a more informed and engaged citizenry.
Let me know if you have any suggestions or comments!
Todd Streicher (ts@cybernines.com)