PreVeil Webinar Registration: CMMC Countdown 6/24/2022 @1:30 PM (ET)
Raine Streicher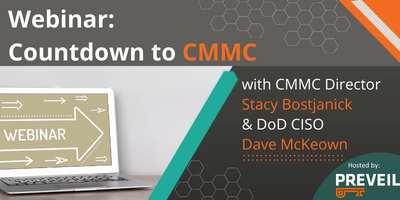 CMMC is less than a year away from becoming a rule. On June 24th at 1:30 PM (ET), our friends at PreVeil are sponsoring an important free webinar with top DoD officials Mr. David McKeown (DoD, CISO) and Ms. Stacy Bostjanick (CMMC, Director) that will help provide the latest guidance and clarity on the CMMC program.
Sign up to hear Mr. McKeown and Ms Bostjanick as they discuss:
Important CMMC program updates

Expected changes to program timelines
Contractor obligations under DFARS 7012
DIB organizations attending this webinar will gain an understanding of changes to the CMMC program, how they can best prepare themselves for it, and the importance of starting their compliance programs now. You can also have your questions answered directly by these top DoD officials.
It's online and it's free! Sign up today Link: https://us02web.zoom.us/webinar/register/6916542779640/WN_K811wwNgRKyIUy0RIu_jaw